Welcome to 2nd Grade Showcased Work!
Enjoy Mrs. Garcia's class book for fairy tale stories:
---
The Three Bears really need a latch for their door to keep out Goldilocks. Click here to read what students did to help the bears out. Below is a short video showing the steps the students followed to create a latch.
---
Take a look at the bridge building activity using a design thinking process.
---
The second grade classes have been creating ePub books using the Book Creator app. Mrs. Garcia and Mrs. Shapard's class wrote homophone books to go along with their spelling unit. Mrs. Zabriskie's class thought of ideas they would like to develop after reading What Do I Do with an Idea?
If you want to view the work as an ePub book, you'll need to be on an iOS device (iPhone or iPad) with iBooks installed. Click on the link below, choose download, then "open in iBooks." The video versions have been uploaded to Seesaw.
Mrs. Shapard's Homophones Book
---
What fun the students had building robot prototypes! They were given some everyday materials for creating. They they recording what they wanted their robot to do for them. Click here to read more about it.
---
Coding Unplugged and More! Click here to read more about the activity.
Take a look at the second graders working with the Ozobots.
---
Our Heritage Project are finished! Click on the picture below to access them.
Enjoy a look at Grandparents and Special Friends listening to the Heritage Projects
---
What happens when technology doesn't respond as expected? You move to plan B! Click here to read what happened.
---
Using a spooky (well, not THAT spooky) story for a prediction activity, the children illustrated their responses in the Book Creator app. These were made into class books. The class ebooks can be read on an iOS device (iPad or iPhone) by following the directions below. This eBook can NOT be read on any other device.  However, the books have also been saved as a video that can be seen on any computer or mobile device. Read more about what we did by clicking here.
Instructions for Viewing Books and Videos:
If you are downloading the ePub books, remember that you need to click on the book link while on an iPad or iPhone that has the iBooks app. Choose download and open in iBooks.
Click on the word "book" or "video" to view the projects.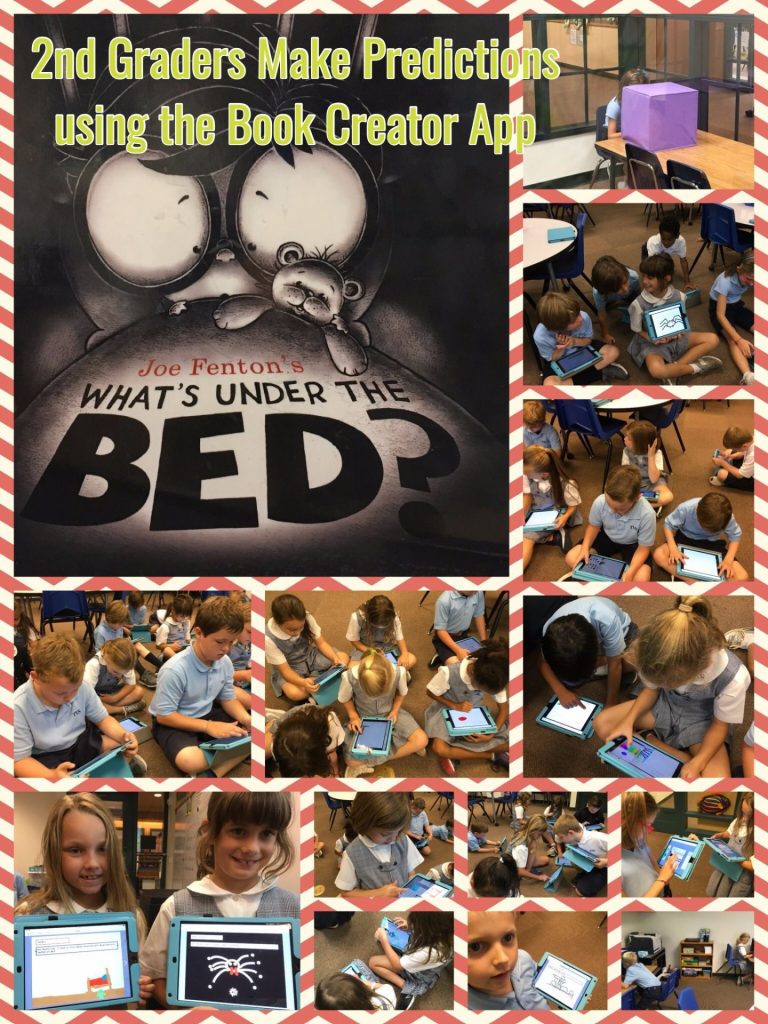 ---
Our second graders are in the midst of preparing a wonderful eBook and video for their visitors on Grandparents' and Special Friends' Day. In creating the Heritage Project, students bring in photos of their family and then record their family history. Here's a collage of what we've done so far.